We take safety seriously. With comprehensive training programs and documented guidelines, we're ensuring the health and welfare of our employees, customers, project partners and visitors to our sites.
How We Make Safety a Priority
Every step of every project has employees at all levels assessing risk and adhering to safe practices. This safety culture is the backbone of our business, and helps to guarantee that all workers go home safely at night. The guiding principles include:
"It doesn't matter if you make any money if you don't go home."

Randy Danchuk, Health and Safety Manager
Maintaining a comprehensive health, safety and welfare program that includes assigned responsibility for compliance;
Continuously identifying hazards in the workplace and either eliminating them or reducing the risk associated with them;
Reviewing all accidents and improving processes to ensure it doesn't happen again;
Providing appropriate training and instruction;
Enforcing this policy equally among employees, contractors and visitors.
The Company's Safety Management Manuals are the guide to safe operation for both plant and project based activities. These manuals conform to the Canada Labour Code and WorkSafeBC guidelines, and we ensure that our employees know and comply with the requirements of the policy and the safety rules that specifically apply to any plant or worksite.
Statement of Safety Commitment »
Commitment = Results
The results of this commitment to safety show. The Interoute Construction group of ready mix companies has earned the BC Ready Mix Concrete Association Safety Performance Award in 2011, 2012, and 2013 for best safety performance.  Our sister company nelson Ready Mix has been recognized by the BC Ready-Mixed Concrete Association with a Safety Performance Award for having the best 5-year safety record for having no lost-time accidents during the year.
CRM: 2007, 2008, 2009, 2010, 2011, 2012 Colas Vanguard Award,
for improvements in health and safety over the past year.
ICL: 3-time recipient (2011 – 2013) BCRMCA Safety Performance Award (Category 2: 50,000-99,000 hours worked),
for having zero lost-time accidents inthe previous year.
ICL: 1998, 2001, 2009, and 2010 International Crystal Woodpecker Award from Colas SA,
for the best safety record of all 1400 Colas companies worldwide.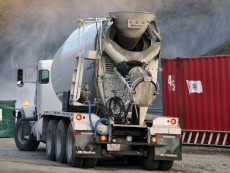 Ethics
Our guiding principles ensure we always operate in a responsible, respectful, environmentally conscious, and safe manner, within the organization and with our customers.
Environment
From the reduction of greenhouse gasses to a commitment to recycling, our measurable, sustainable environmental goals go beyond basic regulation compliance.
Quality
We will never compromise on product quality, which is why we can meet the strictest of requirements with zero loads rejected.